Welcome to the Guild
The New Zealand Guild of Agricultural Journalists and Communicators is a friendly, professional society for those working with a focus on agriculture – the backbone of this country.
One of the Guild's key objectives is to have agriculture recognised for the major role it plays in New Zealand's export-oriented economy.
For nearly 60 years, our members have brought this country's innovative and sustainable methods of food and fibre production for domestic and export markets to the attention of urban and rural New Zealanders alike. Within the Guild there is expertise in everything from animal behaviour to wine.
If you work in agricultural communication, Join Us.
If you want to communicate with the rural sector, Contact Us.
The winner of the inaugural Ravensdown award is ...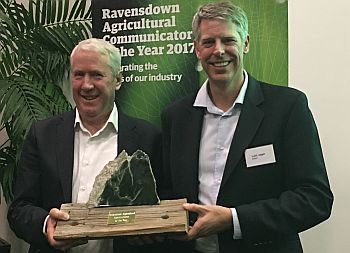 Lain Jager, Zespri chief executive is the 2017 Ravensdown Agricultural Communicator of the Year. This was announced at a dinner in Hamilton on 14 June where he was presented with the magnificent hand-crafted trophy to hold for the year and a cash prize. Lain, pictured right, receiving his award from Ravensdown general manager innovation and strategy Mike Manning.
The award is administered by the Guild and recognises excellence in communicating agricultural issues, events or information. This is the first year Ravensdown has sponsored the award, now in its 31st year.